SYIL X7
New X7-20 With an Epoxy Granite Frame From SYIL
SYIL today announced SYIL X7-20, its newest small CNC machine. The SYIL X7-20 is the follow-up of the X7. Its ...
---
SYIL today announced SYIL X7-20, its newest small CNC machine. The SYIL X7-20 is the follow-up of the X7. Its combination of small footprint, full CNC capabilities, the highest accuracy, and sub $30K price are unprecedented.
The new SYIL X7-20 is a versatile CNC machining center, with an epoxy granite frame that offers all the features of the original X7, but with improved accuracy and smaller footprint.
Epoxy granite is a composite mineral. Mineral castings are the next-level castings as in comparison with cast iron they have the following benefits:
Dimensional stability over a range of temperatures
Improved vibration damping over cast iron
Machine bodies can be made solid increasing their weight rating
Epoxy granite does not suffer from corrosion
Casting processing time is reduced
Higher spec spindle motors are now possible due to greater material stiffness
The environmental impact during manufacture is reduced
The new castings enabled SYIL's engineers to place the X-axis motor under the table. As a result, the width of enclosures reduced to 59" without compromising on table size or safety distances in the enclosure.
And the new X7-20 brings more good news: the travels have increased. The X7-20 machine is equipped with 15.7"x11.8"x14.9" of travel and rapids of up 60m/min with the higher-spec kinematics. The choice of controllers has also been expanded to suit every budget. For those looking for a performance machine, Siemens SINUMERIK 808D advance is a good choice. Finally, for those needing true 5 axis functionality, SYIL offers a custom-built premium controller.
The new SYIL X7-20 is now available for sale in the United States. The base price of the X7-20 is $17.499. And you can then add the options that are right for you. An example configuration like:
Combo type fully protected enclosure, coolant kits, working lights
Advantech-LNC 6800 CNC controller with 3 axis servo motors, includes LNC EtherCAT 3 axis Servo motors and driver, support for 4th Axis
Automatic Tool Changer with 12 position BT30 type with coolant kits
High-quality epoxy granite machine frame
High-precision linear guide
costs $28,495. This price is ex-works Houston warehouse.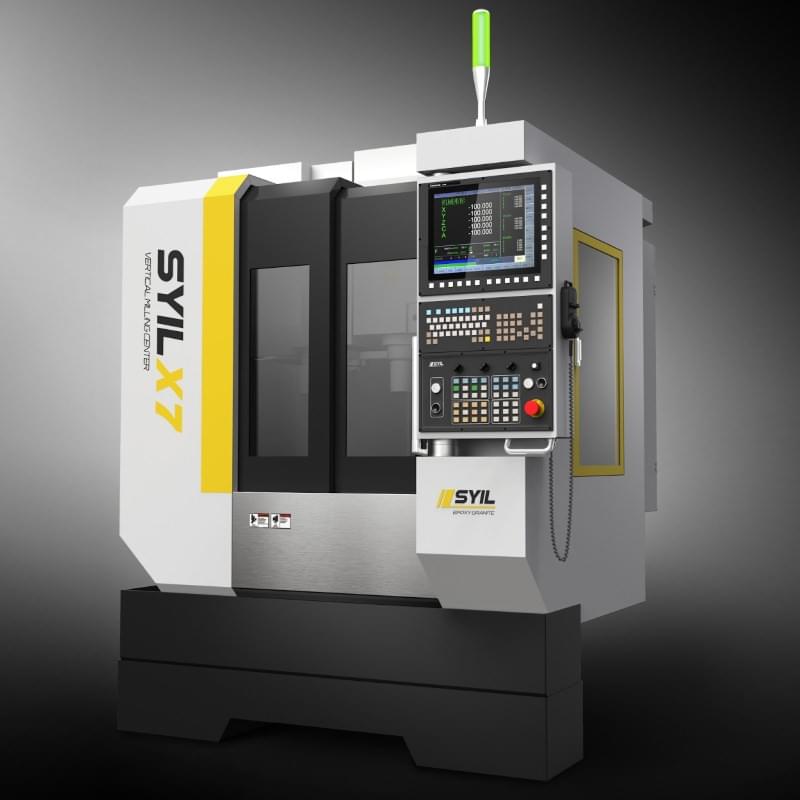 For more information and sales, please contact Jeff Dossiere, SYIL Machine Tools Inc., at 1-855-794-5262.